Clear-Az-Glass Fencing is a leading supplier of Glass Pool Fencing in Perth, WA.
Frameless Glass Pool Fencing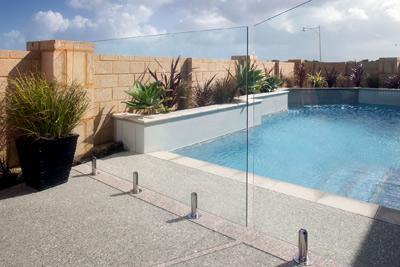 Create an aesthetically pleasing frameless glass pool fence for your Perth home with Clear-Az-Glass Fencing.
Clear-Az-Glass have a wealth of experience of designing and building glass pool fencing.
All our products are;
Grade A safety glass labelled with the AS/NZS stamp of compliance
Marine grade Stainless steel or A grade aluminium
Compliant with Australian and council standards
Many styles of hardware and attachment solutions
CALL US TODAY ON (08) 9402 7853
Semi Frameless Glass Pool Fencing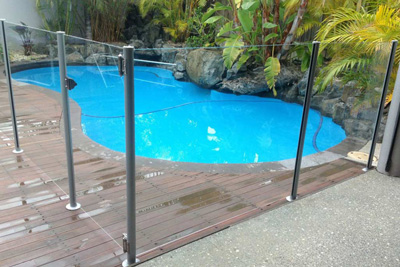 Safety in and around pool areas is vital to the work we do here at Clear-Az-Glass.
Under Perth regulations and laws, your pool area must be fenced by a barrier that meets relatively strict safety guidelines outlined by our government.
Clear-Az-Glass fencing provide fencing solutions that protect your family, without detracting from the aesthetic your pool provides your home. With our semi frameless pool fencing, your Perth home can look as good as ever and ensure that your pool area is safe and secure.
CALL US TODAY ON (08) 9402 7853
Aluminium & Steel Pool Fencing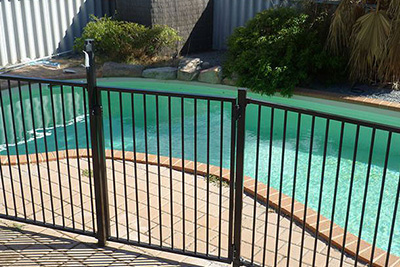 Sturdy, safe, tubular steel and aluminium pool fencing comes in a variety of colours, profiles and designs to compliment any yard. Powder coated to last a lifetime in the harsh elements.
Manufactured from aluminium or steel, tubular pool fencing comes in an assortment of styles and colours. This type of fencing is both attractive and safe, and complies with Australian and local shire regulations. Tubular fencing is easily tailored to all situations.
See our full design chart, or we can manufacture to your specifications and site needs.
Huge Range of Colours
Premium grade aluminium or steel tubing which can be powder-coated in a huge range of colours (see powder coat colour chart)
CALL US TODAY ON (08) 9402 7853
Why choose Clear-Az-Glass Fencing?
Built on 35 years' experience crafting metal and glass products
Our customers can expect the very best in the industry
Our products are designed to accentuate the aesthetic of your area perfectly
Our professional installers have a focused attention to detail and superior workmanship
Our toughened glass, posts and gates are rigorously tested to ensure that they can withstand environmental stress and external impact pressures
If you are searching for glass fencing and/or balustrading, Clear-Az-Glass Fencing has the answer!
CALL US TODAY ON (08) 9402 7853