Glass pool fencing is one of the most stylish, modern pool fencing options on the market today.
If you're looking for a new pool fence in or around Hillarys, then our friendly team at Clear-Az-Glass Fencing can help. We can aid you in designing and constructing new pool fences or maintaining and repairing existing fences.
Finding a reliable, professional fencing team can be difficult. Speak to us today to find out how we can help you develop custom pool fencing solutions that suit your business!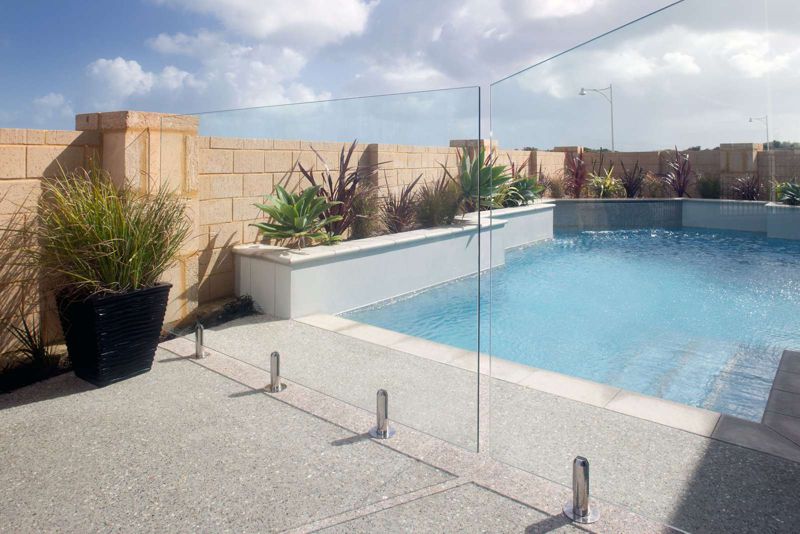 We Specialise In Personalised Glass Fences
Personalised glass pool fencing and balustrades is one of our main services in and around Hillarys. As one of Perth's most reputable swimming pool fence businesses, Clear-Az-Glass is here to help you build a fence that you and your family can enjoy for decades to come.
Every single one of our fences can be adapted to meet your needs. We can modify the size and shape of the glass panelling that is the main component of glass fences. Both frameless and semi-frameless options are available, with fittings coming in either stainless steel or aluminium. Choosing aluminium fittings offers even more customizability, as they can be powder coated with any colour that you want.
Our professional team of designers in Hillarys has the experienced and knowledge to guide you through the entire glass pool fence construction process. They will help you design a fence that both complements your existing landscape design and meets all legal requirements, while making sure to stay within your budget.
Our Services Don't End There
Although at Clear-Az-Glass Fencing we specialise in glass pool fences and balustrades, we offer a wide range of other products and services. Some of our other popular services in and around Hillarys include:
Tubular metal pool fence construction – If you're looking for a cheaper fencing option than glass, then our tubular metal fences could be the answer. Strong, durable and extremely competitively prices, these fences can be powder coated with whatever colour you want.
DIY fencing kit supply – If you're interested in installing your own swimming pool fence, then you should consider using our DIY kit service. We will help you design the perfect fence for your needs, and we will supply everything you need to build it in a simple flat pack kit.
Aluminium slat fencing – If you need a fence other than a pool fence, our aluminium slat fencing services could be a good choice. They come in a range of wood-look finishes, and they are tough and durable.
We also offer a wide range of other fencing and fence design services, so get in touch with our Hillarys team to find out how we can help you today!
Here At Clear-Az-Glass, We're Always Happy To Have A Chat
If you do, then you will find that our friendly customer service team is friendly and helpful. They are here to answer any questions you might have, and they can even organise an obligation free quote and measure if you'd like them to!
Get in touch with us today.